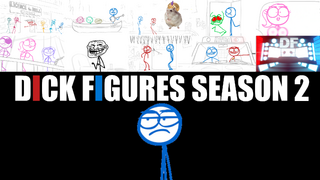 Dick Figures Season 2 is the 2nd season of animated web series
Dick Figures
. It first started on April 21, 2011 and finished on August 25, 2011. The season introduced major characters
Broseph
and
Trollz0r
and also turned
Lord Tourettes
into a major character of the Dick Figures franchise. The season became available as a purchase item on Yekra and Google Play on March 28, 2014, which contains all 10 episodes and a new animated intro.
Season Summary
In this season, see a zombie outbreak happen at the mall that only Red and Blue are able to stop. Watch what happens when Red and Blue find a magic genie lamp that will give them a wish for every time they let someone else get a wish. Watch Red and Blue help Lord Tourettes find his missing hat so he will be able to swear again. What kind of trouble do you think Red and Blue could get themselve into if they impersonate cops to get free stuff? All of this is topped off with the season finale being a music video with animations made entirely from the fans of the show.
Episodes
All Episodes
Community content is available under
CC-BY-SA
unless otherwise noted.