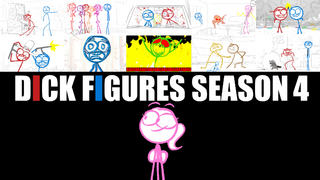 Dick Figures Season 4 is the 4th season of Dick Figures. The first episode Losing Streakers was released on the Dick Figures Website on April 3, 2012 as part of the Season 4 Sneak Peek Contest before being released 2 days later on YouTube. The season promoted Dick Figures: The Movie with the First Day of Cool episode released on May 31, 2012. However, the season was considered forgettable by many fans. The season became available as a purchase item on Yekra and Google Play on March 28, 2014, which contains all 10 episodes and a new animated intro. The download has several changes to the original episodes. First Day of Cool, Freshman 15, Ballad of Lord Tourettes, and The Fart Knight Rises replaced the DFTM outro with the new Dick Figures outro, as well as featuring an uncensored version of Ballad of Lord Tourettes.
Season Summary
This season will have an episode that shows what the lives off all the characters were like as little kids on their first day of school, also an episode where Lord Tourettes tells a story of the first time he had sex, followed by an episode where Earl Grey returns and it's up to Batman and the Bloozer to stop him. Finally, see a mind blowing episode that shows the events that happened before the episode "A Bee or Something." All this and more in Dick Figures season four.
Episodes
All Episodes
Community content is available under
CC-BY-SA
unless otherwise noted.