Dick Figures Season 5 is the 5th season of animated web-series Dick Figures. The first 3 episodes, GTA: Pacific Grim, Hardcore Chore and Snowjob were all released to YouTube before Season 5 went on a hiatus. It is the first season to be released as a purchase product that contained the rest of the 7 episodes before being released on YouTube, the full season was released on March 28, 2014 on both Google Play and Yekra along with the other 4 Seasons. The fourth episode, Dick Figures The Movie The Music Video, which is the first episode to be released after the hiatus, was released on April 3, 2014. Season 5 also contained a Bonus Episode that happens after the events of Dick Figures: The Movie but has not aired on YouTube yet.
Season Summary
In this season, Red and Blue will get into a contest to see who can go the longest without swearing, Pink and Stacy will join Red and Blue as they play Dungeons and Dragons, and you will even see a gender bent episode. Yes, that's right. Instead of another episode, with Red and Blue, see an episode with Scarlet and Lavender as Lavender tries to make it to Salmon's birthday party on while Scarlet annoys her the whole time focusing on nothing but getting liquor and having sex with Burgundy and how could we forget that there will be another Dick Figures music video with fan made animation based off of the theme song for the movie and last but not least, an awesome finale episode that shows what the lives of Red, Blue, Lord Tourettes, Pink, Stacy, Raccoon, Broseph and every other character we haven't mentioned yet are like years in the future when they've become full grown adults and have had families. Get ready to see one of the best seasons of your life all here in Dick Figures Season 5!
Trailer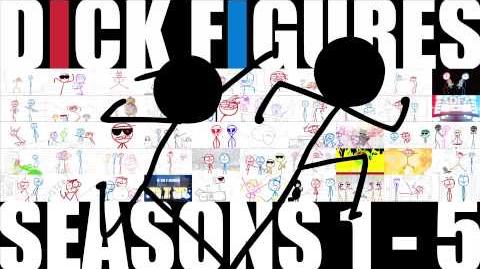 Episode List
Trivia
With eleven episodes in total, this season has the highest amount of episodes.
All Episodes
Community content is available under
CC-BY-SA
unless otherwise noted.