"
Wow, I love a man in uniform.
"

–Pink, Flame War
This page is for the character Pink, were you looking for her gender bent version?
Pink

"Surprise!"
Vital statistics
Title
Debut: Flame War
Gender
Female
Status
Alive
Friends
Blue (boyfriend, later husband), Stacy (best friend), Red (sometimes), Indigo (Son), Cobalt (Son), Lavender (Daughter)
Enemies
Red (usually), Sarah Connors
Aliases
Meredith P. Gurblopskey, Captain Pink, PinkAlive, Pinkcess
Times Dead
17
Voiced By
Shea Logsdon

Meredith P. Gurblopskey, more commonly known as Pink, is one of the main characters from Dick Figures. She is Blue's girlfriend and made her debut in the 3rd episode of the series, Flame War.
Biography
Blue first saw Pink at Maulmart in Flame War. Blue (as always) tries to flirt with her & it doesn't end so well. So he throws a grenade at her & leaps at Pink to save her. He then states that he saved her life & that she owes him dinner.
In
Trouble Date
, Blue & Pink have their promised dinner at the
Le Food, a French restaurant
. She appears to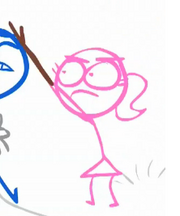 not know so much about different languages than English, because of Blue saying "Konichiwa" ("Hello" in Japanese) & "Gracias" ("Thanks" in Spanish) & her not noticing that it isn't French.
She then appears in Blue's (or Raccoon's) nightmares in OMG, where she was seen only as a decapacitated head in Blue's bed.
In
Role Playas
, she was playing as Pinkcess on top of a tower until she became angry at Cerulean (Blue's role playing name) for them playing for 4 hours, neglecting her, resulting in her departure.

Pink has made cameo appearances in Season 2 (in Camp Anarchy as a kid during a flashback Blue had at camp and in Lord Tourette's Syndrome as one of the 2 women being called 'hoes' by an angry Santa Claus who was wearing Lord Tourettes' hat). She finally got a speaking role in the episode, Fang Angels, which also shows her, still in a (possibly sexual) relationship with Blue.
She's captain of her own, feminine, pirate crew (as Red Rum's rival) in Captain Red Rum & The Pina Colada Armada.
After a bit of an absence on the show, she finally appears again in the 4th episode of Season 3, Terminate-Her!.
She's one of the guests at Red & Blue's Halloween party. Her costume's Sexy Bacon. She wore it just for Blue, but it seems that Blue wasn't all that into the costume. When Pink sees Blue & a Slut flirting with each other on the living room couch, she grows really jealous & later on gets Red (who is dressed as the Terminator & is looking for someone named Sarah Connor) to kill the Slut, who Red thought was Sarah Connor because Pink pointed at the Slut & said she was the person Red was looking for.
She is shown in Brain Switch sitting in her bed reading a novel about Fang Angels. It appears that she spends her free time before going to sleep reading her favorite story.
Appearance
Pink is a pink female stick figure with two eyelashes on each eye. She wears her hair a ponytail. She also has boobs and a skirt.
Personality
Pink is a very mature girl who often gets annoyed and stressed out about things mostly related to her relationship with Blue. She will usually start off on a date with Blue and she will be happy, but then something will happen. Either Blue will mess something up, or Red will come in and ruin everything and this will make Pink get mad and upset. Just like her boyfriend Blue, Pink may be suffering depression. Although Pink is usually very stressed and uptight in most situations, she is sometimes shown to he able to loosen up and have a little fun which mostly occurs when she is with her best friend Stacy. For instance: In the episode A Hobbit of Thrones, Pink was willing to play Dungeons and Dragons with Red, Blue, and Stacy. She and Stacy even both got high on pot and went insane, saying and doing random things for no reason.
Episode Appearances
Major Roles
Minor Roles
Episode Roles
Flame War - Pink made her 1st appearance in this episode, where Blue 1st met her & started hitting on her. He threw a grenade at her & played it off as if someone else did that & he pushed her out of the way. She bought it & he asked her out & she accepted.
OMG - Pink made a non-speaking cameo when Blue was having a dream about her in bed with him but when he pulled down the covers to see her naked body it turned out she had her head cut off & all that was there was blood. Then he woke up & found out it was all a dream.
Trouble Date - Pink & Blue were going on their 1st date together at a french restaurant but their date was ruined when Red & Stacy had their 1st date & made it a double date with them.
Role Playas - Pink was The Pinkcess in this episode. Blue was trying to save her but she started getting bored of the game they were playing & left to go home.
Camp Anarchy - Blue was having a flashback of his best memories of Camp Anarchy, but his best memories were being tied to a tree & beaten with sticks by Pink & Orange while Red kicked him in the nuts with a football.
Lord Tourette's Syndrome - Pink made a non-speaking cameo in this episode being the 1st girl that the mall santa called a ho.
Fang Angels - Pink & Blue were on a date watching Fang Angels. Blue & Pink were about to have sex until Red called & ruined their date.
Captain Red Rum & the Pina Colada Armada - Pink was the leader of the lady pirates & gets killed by Red.
Bath Rhymes - Pink was featured in this music video.
Terminate-Her! - Pink dressed up as sexy bacon for Blue but Blue didn't like it so she broke up with him. She later got jealous of him dating Sarah Connors & made Red kill her.
Brain Switch - Red (In Blue's Body) called Pink over the phone & started saying sexy things to her. Pink thought that this was really Blue & she asked him to come over to have sex with her. (It wasn't specifically stated, but her tone implied it.) 
Kung Fu Winners - Blue took Pink out on a date with him at the Golden Lotus Dragon but the ninjas kidnapped Pink & he had Red defeat the ninjas. Blue got Pink & when he asked Red if they could have some sushi he just told them to fuck off in Chinese.
Pussy Magnet - Pink made a cameo at the end when Blue burst into her room & she shot him.
Ocho Muerte - Pink was on a date with Pink & she was getting attacked by Ocho Muerte & she got locked in the apartment. Blue got up there to save her but she fell down in the trash can.
First Day of Cool - Pink as a little kid was seen with Stacy.
Snowjob - Pink & Blue were trying multiple things to get Red out of the snowman.
To see what episodes Pink has appeared in, please go to: Pink/Appearances
Trivia
Gallery
Flame War
Trouble Date
Role Playas
Fang Angels
Captain Redrum and the Pina Colada Armada
Terminate Her!
Brain Switch
Kung Fu Winners
Pussy Magnet
Ocho Muerte
Snowjob
A Hobbit of Thrones
Happy Birthdump
Movie Gallery
Community content is available under
CC-BY-SA
unless otherwise noted.